Value Added Services
4G/5G Router Configuration Service & Consultancy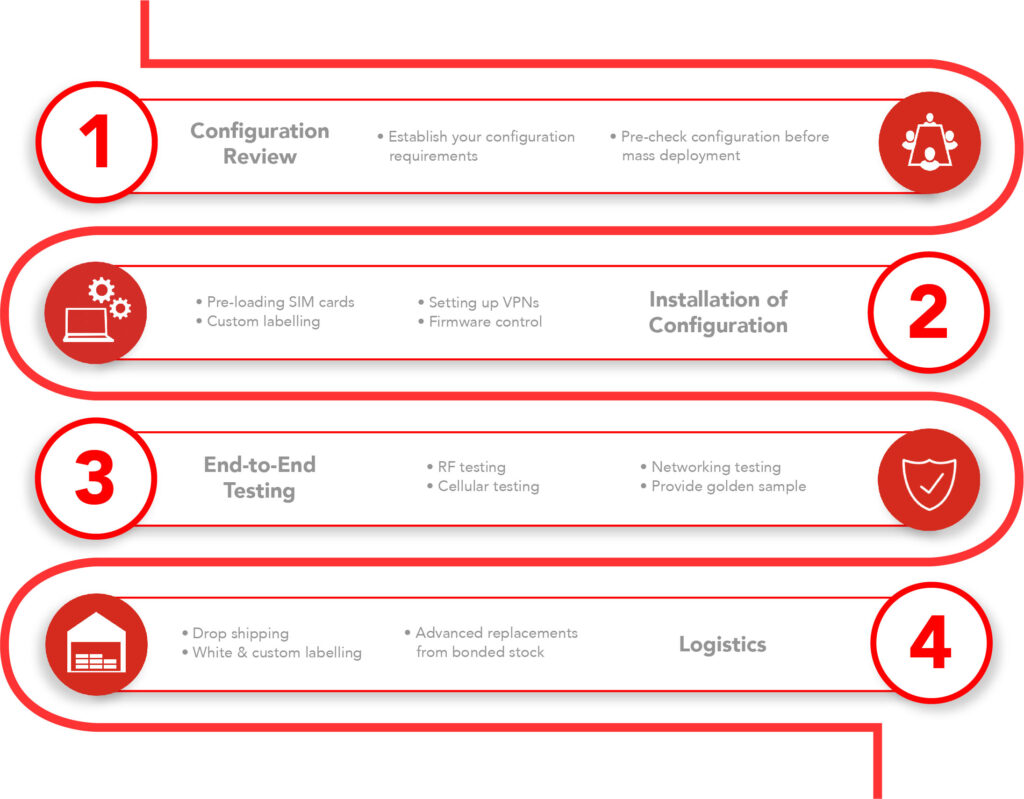 Solid State Supplies offer a tailored configuration service to ensure that routers and modems are delivered to sites that are ready to go live. Our team can assist with pre-loading of configurations and custom applications, which are supported by our logistics capabilities to ensure a uniform delivery to complete your programme rollout.
Our four-phase configuration service prevents errors during setup, and helps customers save valuable time and resource during deployment. Whether you need assistance for one particular phase or the complete framework, speak to us to see how our value-added services help you and your business.
Four Phase Configuration Service
Phase 1: Configuration Review with Customers
Our team will assess your requirements and establish a configuration that you will suit your programme best. Once approved, a golden sample will be produced for final approval. If this isn't something that you're familiar with, our team can walk you through the process. We can also pre-load the product before sending the golden sample.
Phase 3: End-to-End Testing
We will conduct end-to-end testing of the configuration for you to ensure that everything, simply, works. This can include RF testing, cellular testing, networking testing and any specific application is performing as required.
Phase 2: Installation of the Configuration
This is the physical part of the configuration action; depending on your requirements, our team may be pre-loading sim cards, custom labelling, setting up VPNs, etc.
Phase 4: Logistics
With over 40 years of distribution experience, our comprehensive warehouse and logistics operation are able to offer key logistical services such as dropshipping direct to the customer site, white labelling, custom labelling, and advanced replacements from bonded stock.