Multi touch panel PCs suit many applications requiring a Human-Machine Interface or HMI. Examples include factory or building automation, access control, meeting room management, point-of-information kiosks, hospitality, and air traffic control.
Typical features of industrial HMI PCs are elegant and edge-to-edge designs, rugged construction, powerful performance, and flexible mounting options. We supply a wide range of multi touch HMI PCs, with a choice of processor and chipset combinations. Models are available to suit harsh and demanding environments, such as rapid change of temperature, high humidity, dust, and optical interference caused by reflection, refraction and scattering of light. We offer HMI Panel PCs suited to access control applications, energy efficiency management in buildings, building or industrial automation, retail or enterprise environments.
We also offer custom design services for specific display assembly requirements – contact us to find out more about our UK design centre and ISO14644-1 class 7 clean room.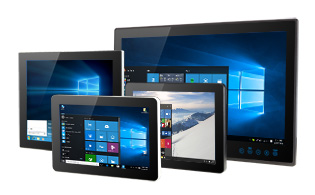 ---