Monochrome LCD (mono LCD displays) technology offers high reliability and is ideal for industrial and consumer applications. Mono LCD displays can be alphanumeric LCD (character LCD), graphic LCD or segmented glass LCD.
Varitronix monochrome LCDs benefit from low power consumption, versatility in size (124 active products), wide operating temperatures and polariser options.
Segmented glass LCDs are available in a wide range of extremely cost effective standard products which use multiplexing to reduce the number of control pins required to drive the display. High stability and extended temperature range variants are available, and the products are ideally suited for applications such as instrumentation and control panels. Customisation of the artwork is an affordable option if required.
Character modules range from 8×1 to 40×4 lines. Graphic displays range from 100×32 up to 240×128 pixels. For high volume applications, chip on glass modules may provide a more economical solution. All Varitronix modules offer a range of polariser, backlight colour and temperature range options.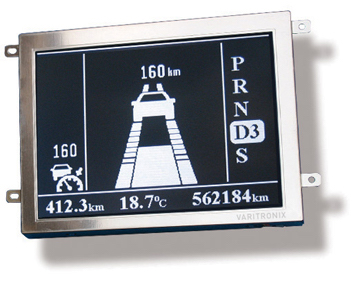 A wider range of complementary monochrome displays is available from Orient LCD which benefits from small MOQs and short lead times. Orient offers a series of "AMC" character LCD modules which are directly controlled by I2C and SPI interfaces.
---