A monitor usually comprises a display, circuit board, casing and a power supply. Industrial applications require monitors which have been designed with increased durability for the more demanding conditions encountered in industrial environments.
We offer a wide range of industrial grade monitors for industrial control, service automation and other demanding applications. Our range includes Open Frame, Chassis, Panel Mount and Rack Mount monitors, sunlight readable displays, and IP rated and marine grade displays. Sizes range from 5.7″ to 65″. Touchscreen options are available on most models, including projected and capacitive touch, resistive touch and SAW touch.
Touchscreen technology is ubiquitous now – it has become the norm and is expected by users wherever they encounter display panels, across all applications.
Resistive touch technology is the longest established and has proved its reliability. Resistive touch screens detect touched points by measuring voltage changes, and are very easy-to-use, highly stable and resistant to external noise. They can be used with finger, glove, pen or stylus input with excellent detection accuracy. A simple structure and product maturity makes them highly cost effective. Multi-touch capability can be added to resistive products to offer stable multi-touch operation.
Capacitive technology, also known as projected capacitive, operates with lighter pressure and offers excellent durability. Multi-touch supports up to 10 touch points, and gloved hand operation can be supported.
All of our industrial models are extremely hard wearing and hard working. Products feature robust mechanical design and advanced communications capability. Technical support is available to help you choose a solution, and we can customise display assemblies to meet specific project requirements.
View our range of Industrial Monitors: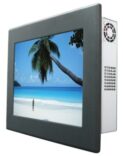 ---