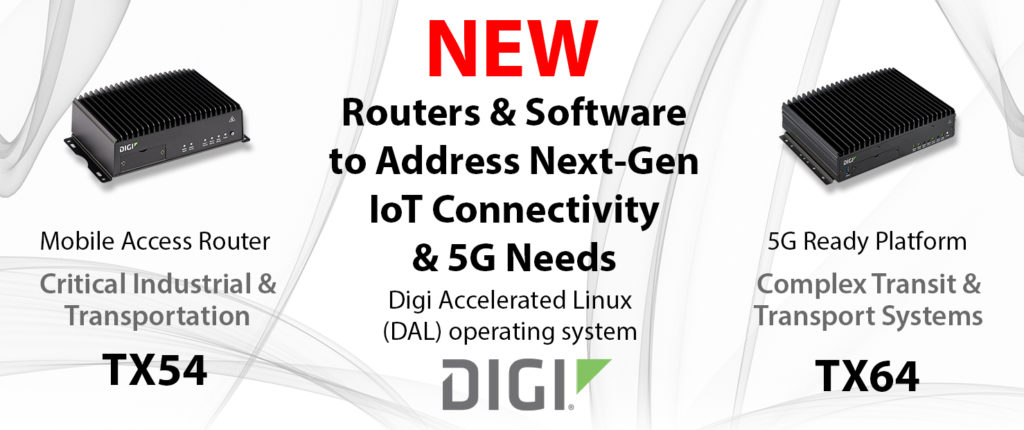 Introducing two new families from Digi's cellular portfolio to address next-generation IoT connectivity and 5G needs: the TX545 and the TX64.
The TX range are designed for critical infrastructure and intelligent traffic system applications, using the new, security-enhanced Digi Accelerated Linux (DAL) operating system, making smart cities a reality. The routers feature 5Ge / Gigabit LTE (Cat 18) radios, Band 71 and CBRS connectivity, 5G readiness, and are FirstNet Ready™.
The Digi TX54 is a rugged and secure cellular router for mission critical Industrial and Transportation applications, including FirstNet Ready™ models for public safety networks. The TX54 delivers high performance ideal for mission-critical applications that require continuous connectivity, field longevity and edge computing (Python development environment). It offers FirstNet Ready™ models with single or dual cellular options, and local private subnets are bridged across public networks to safeguard privacy.
Digi TX54 Features:
FirstNet Ready™ and global models both available in single and dual cellular options
Future-built with dual-core 880 MHz MIPS processor and PCIe 2.0 internal bus
Capable of segmenting private and public data communication across dual 600 Mbps Cat 11 cellular modules
High-speed 867 Mbps 802.11ac Wi-Fi for WAN or LAN service and optional dual Wi-Fi radios
Cryptographic co-processor with secure key generation
Securely deploy, monitor and control devices with Digi Remote Manager®
The Digi TX64 is a 5G-ready, high performance cellular router with dual redundant communications (LTE-Advanced and LTE-Advanced Pro router) for complex transit and transportation systems with true enterprise class routing, security, firewall and integrated VPN. The TX64 is ideal for challenging transportation and mobile environments: internet access for passengers is managed securely and separately to the priority on board bus systems.
Digi TX64 Features:
5G-ready platform: future-built with powerful quadcore processor
Segmented private and public data communication across dual 1.2 Gbps Cat 18 (or Cat 11) cellular modules
Wired Gigabit Ethernet (4-port) for onboard systems
Video and vehicle data offload over 1.7 Gbps 802.11ac Wi-Fi backhaul
Passenger Wi-Fi over 867 Mbps 802.11ac access point
Securely deploy, monitor and control devices with Digi Remote Manager®
Please use the form below to order now or to find out more about the new Digi TX range.