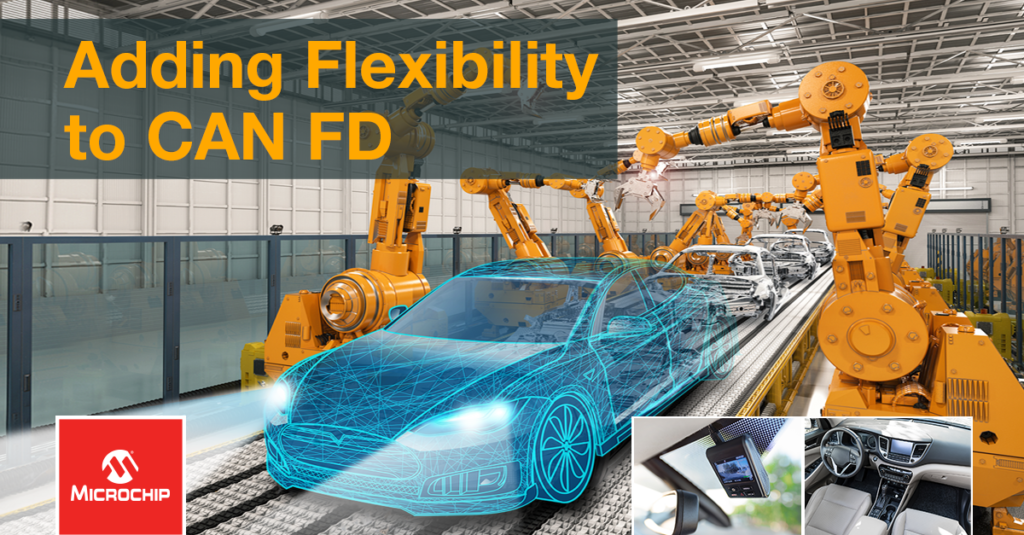 Introducing the new Microchip PIC18-Q84 family; these are the first PIC18 microcontroller (MCU) products that can be used to transmit and receive data through a Controller Area Network Flexible Data-Rate (CAN FD) bus. There is a broad range of Core Independent Peripherals (CIPs) that can handle different tasks without requiring CPU intervention, which means reduced time and cost when connecting systems to a CAN FD network.
Designed to meet the demand for increased bandwidth and flexible data rates in progressive Automotive applications, such as safety and communications, the Microchip PIC18-Q84 family can also support the development of advanced driver-assistance systems (ADAS).
The Microchip PIC18-Q84 family provides a simple solution for transporting sensor data to a CAN FD bus by eliminating the need for gateways or other network switching techniques. Configurable CIPs make it easy to create custom hardware-based functions with near-zero latency, and additional code is not required.
Ideal for applications that require faster data transfer rates such as the 'Connected Car', Industrial Automation, Smart Homes etc.
Development Tools and CAN FD Product Support
The PIC18-Q84 family offers both hardware and software support. Hardware includes a Curiosity Nano Development Board and a Curiosity High Pin Count (HPC) Development Board. A plug-in module (PIM) is also available for the Automotive Networking Development Board and for use with Microchip development boards. Software includes Microchip's MPLAB® Code Configurator (MCC).
Microchip also provides a broad family of CAN FD transceivers and CAN FD controllers. Speak to one of our team to find out more about Microchip's complete CAN and CAN FD offerings.