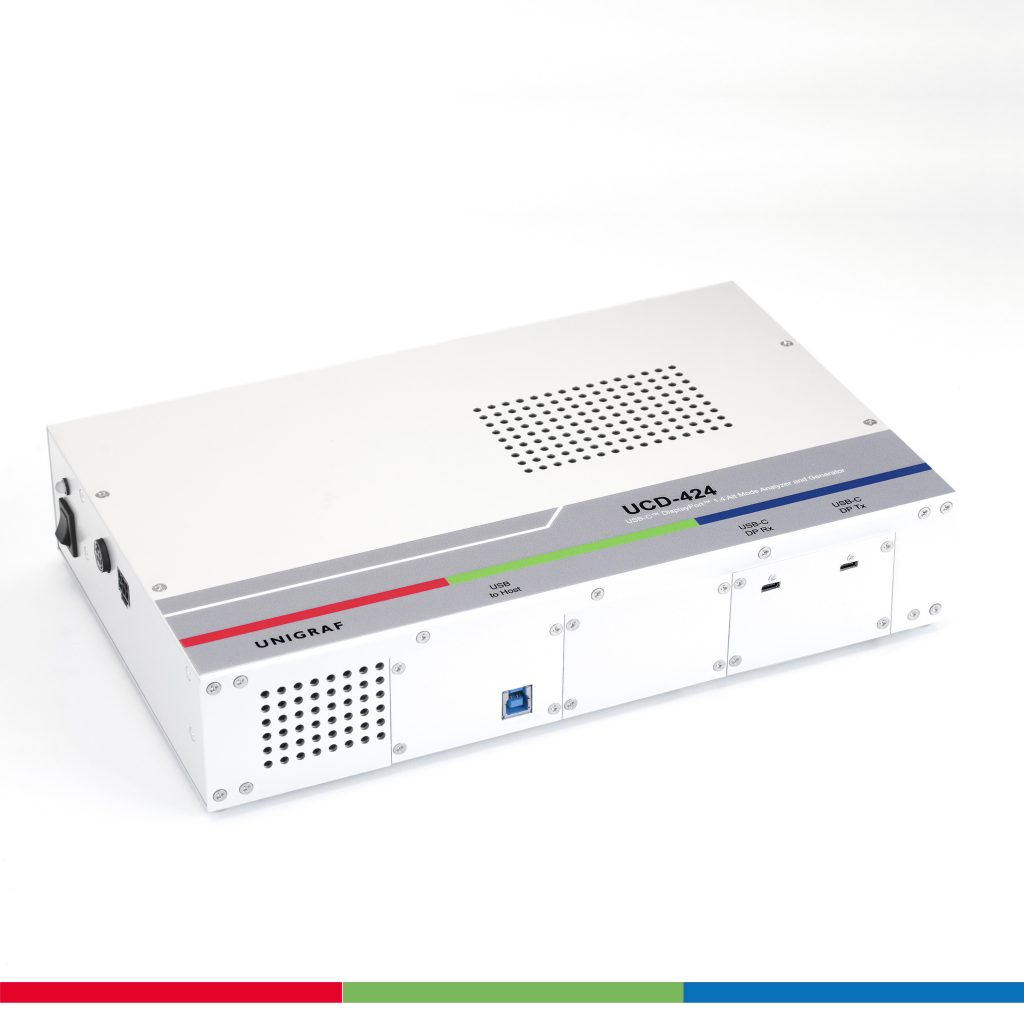 Introducing the UCD-424 from Unigraf – an 8K video generator and analyser – which is now available for orders and shipping.
The Unigraf UCD-424 is an 8K Reference Sink, Source and Branch for verifying DisplayPort™ Alt Mode over. USB-C up to 8K@30 Hz (8K@60 Hz with DSC) and 4K@120 Hz video modes with HBR3 max bit rate capability. It features USB-C v1.3 input and output with Power Delivery 3.0. The unit also supports MST (4 streams), Forward Error Correction (FEC), Display Stream Compression (DSC), and Link-Training Tunable PHY Repeater (LTTPR). UCD-424 also supports DP 1.4a Link Layer, DSC and HDCP 2.3 compliance testing.
Compliance Test Tool
UCD-424 supports DP 1.4a Link Layer CTS including DSC testing for Sinks, Sources and Branches. Certification from VESA on the Link Layer CTS tests for UCD-424 is pending.
UCD-424 supports HDCP 2.3 compliance testing for Transmitters, Receivers and Repeaters. The official approval of HDCP 2.3 CTS testing for UCD-424 from DCP is pending.
Key Features
8K and 4K Reference Sink & Source
DP 1.4a Link Layer CTS for Sinks & Sources
HDCP 2.3 CTS for Transmitters & Receivers
DP 1.4a Features:
Up to HBR3 simultaneous input and output in one unit
DSC Sink & Source with off-line encoding and decoding
FEC and LTTPR support
MST support (4 streams)
USB-C v1.3 with Power Delivery 3.0
DP Alt Mode
Capable to Sink & Source 9V@3A
PD Role swaps supported
USB3.2Gen2 (10Gbit/s) bypass between test interfaces
HDCP 1.3 and HDCP 2.3 support
For more information, please contact us using the form below