Embedded Video opens up new possibilities for implementing systems that rely on visual data to make decisions across a broad spectrum of applications. Drones, machine vision, thermal imaging, gaming, video surveillance, robotics, Advanced Driver Assistance Systems (ADAS), machine learning and HMI all rely on cameras and displays that demand low power while supporting high-speed interfaces, data security and also design security to protect IP.
The inherent parallel processing and high-speed I/O capabilities of FPGAs make them ideal processing platforms for delivering the high data throughputs needed for both high-resolution imaging and video handling.
Microchip provides FPGA imaging and video solutions to support multiple protocols and the development of a host of image and video processing applications. As a best-in-class imaging and video platform, Microchip's solutions come with a complete ecosystem, including comprehensive application-specific hardware, optimized intellectual property suite for image processing, sample reference designs, demonstration designs and collateral.
Microchip's award-winning PolarFire™ FPGAs are ideal for mid-bandwidth (4K/2K) imaging/video applications due to their rich memory and digital signal processor (DSP) resources. High Speed 12.7Ghz Transceivers support full 4Kp60 resolution video I/O.
---
Comprehensive Video IP is available including:
MIPI CSI-2 TX and RX
Bayer Conversion
Colour Space Conversion
Video Scaler
Alpha Blending And overlay
Image Edge Detection
HDMI 2.0
Display Port 1.4
HDCP 2.2
H.264
JPEG2000
JPEG
---
The FPGA becomes the heart of a total solution: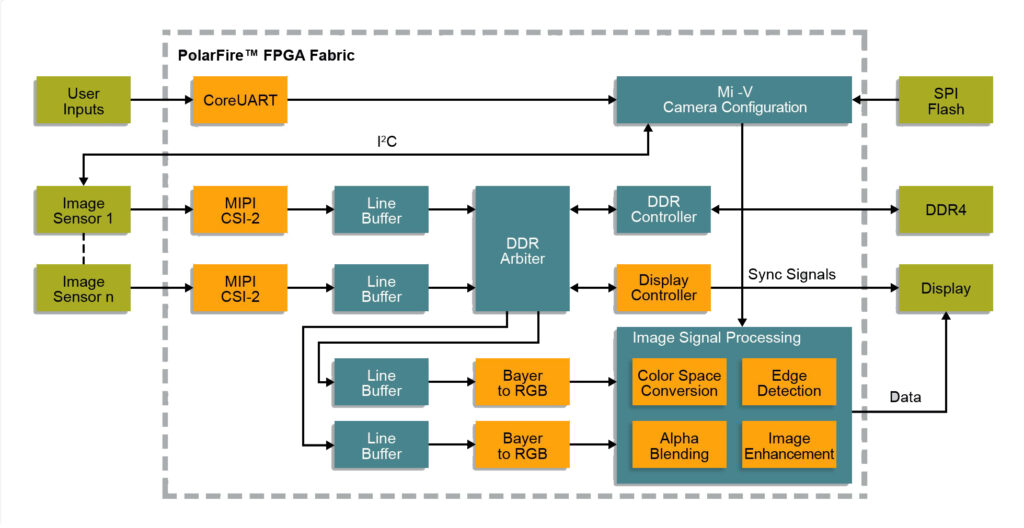 ---
An easy to use SW GUI is available to enable the user to tune the solution to meet application needs: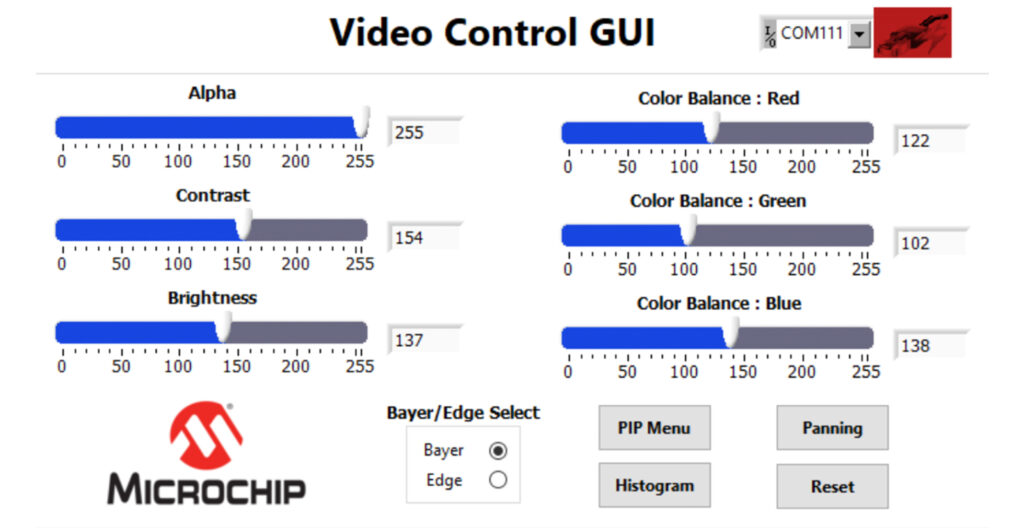 The Polarfire Video and Imaging kit offers rapid evaluation and development of video and imaging applications up to 4Kp60 resolutions.
---